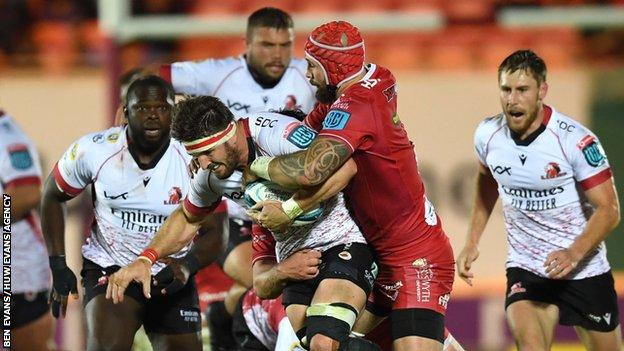 Cardiff and Scarlets will be the first Welsh teams to play in South Africa in the United Rugby Championship (URC).
Competition bosses have confirmed that round six and seven fixtures for Sharks, Stormers, Lions and Bulls will take place on their home soil.
South Africa has been taken off the UK government's travel red list, removing the need for quarantine on return.
Scarlets will play Sharks in Durban on Saturday, 27 November and Cardiff face Lions in Johannesburg the next day.
Both Welsh sides will remain in South Africa, as Scarlets go to Bulls on Friday, 3 December for a Scrum V live match from Loftus Versfeld, Pretoria, while Cardiff move to Cape Town to face Stormers the following evening.
URC chief executive Martin Anayi said: "This is a brilliant result, not only for the South African teams but for the league which now gets to make a tangible impression in this rugby heartland early in the season.
"Huge credit must go to the South African government, SA Rugby and the leadership figures within our clubs for managing to push through and provide reassurances for these fixtures to be played at their home venues in such a short space of time."
Logistical issues
Cardiff director of rugby Dai Young welcomed the decision but admitted the short notice would create problems.
"It was the right decision to go and play in South Africa, it would have been unfair if we had asked their teams to come to Europe again and play their home games," said Young.
"Once it has been deemed safe to travel there and South Africa was off the red list, I have been expecting us to be going there.
"I suppose the disappointing and annoying factor was how long it took for the league to make that decision because it has put us under a lot of pressure logistically.
"The hardest thing is getting flights at the moment because they are getting snapped up by everybody.
"There are four (Cardiff, Scarlets, Munster and Zebre) teams going out as well so that's what we have been chasing our tail over the last five or six days.
"So I understand everybody's frustration but it is the right decision."
Cardiff have 10 players involved in the Wales squad and is waiting to see which players will be available for the South Africa trip.
Wales face Australia in their final game on 20 November, just before Cardiff fly out to South Africa so the internationals involved against the Wallabies will probably not travel.
There is the option of them joining for the second game in South Africa or staying behind to prepare for the Heineken Champions Cup match against Toulouse on 11 December.
Cardiff will only have a couple of days of preparation for the opening European match after returning from South Africa.
Young says he will talk to Wales head coach Wayne Pivac about his players before making a final decision on availability.
"When I have talked to Wayne in the past about things like this, he has always been helpful and supportive because he has also been this side of the fence," added Young.
"What I envisage happening is a discussion will take place a week before we fly out and we would look at it on an individual basis on how much rugby they have played.
"I don't envisage anybody that plays on a Saturday for Wales being involved for us the following weekend.
"It will then be on an individual basis whether we look to involve them in that second game in South Africa or not and ensure they are right for Europe."
Scarlets head coach Dwayne Peel admitted his region were experiencing the same problems.
"It's difficult, there's no question," admitted Peel.
"Wales play Australia and then we play in Durban the Saturday after, so there's a seven-day turnaround there.
"On the back end of South Africa, you come home and having been away for a long period, we're straight into Bristol away in Europe.
"So that period is testing. It's exciting though and for our players, it will be a huge experience and one we have to embrace."